What is the Cost of Creating an E-Commerce Site in India Using Shopify
Date: 24-Dec-2021
The rise and ensuing popularity of building e-commerce websites using Shopify have transformed the world into a global village.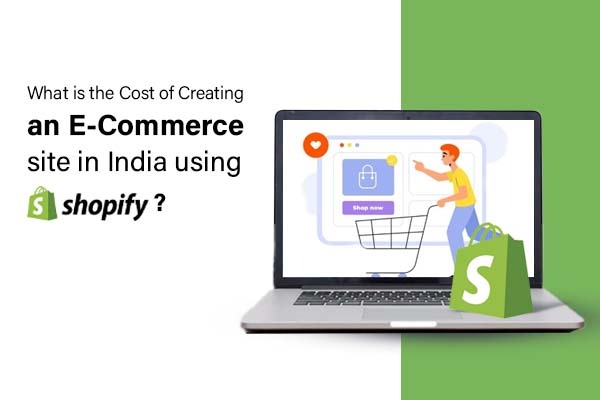 A website is what you need if you want your business to look legitimate right now. The only way to reach newer heights is to give your business the online presence it deserves. Then again, building an e-commerce store isn't as simple as it seems. However, Shopify development in India can get simpler and easier if you hire professionals.
It is costly
Apart from being difficult to build a Shopify-based e-commerce store, this venture is a costly one. After all, an online store isn't anything less than a digital replica of a brick-and-mortar shop. The only difference between the two is that a physical store caters to local customers while an online platform can sell products to buyers spread throughout the world. When building an e-commerce platform, you have to consider everything from design to security to accessibility.
The cost of building
So, how much will it cost you to develop an e-commerce website in the subcontinent? You'll need to pay the domain-related charges, designing charges, and hosting charges. Furthermore, you'll need a responsive website, CMS, and several other things. If you're going to create an online store, multiple groups of experts will have to contribute to it. Here's a breakdown of the expenses associated with building an online storefront.
1. Domain: In India, domain changes usually remain between INR 180 and INR 6,000 per year. You have to renew the domain license once every year to keep the website running. It's just renewing your driving license. Some of the most trustworthy domain registrars in India include GoDaddy, Bluehost, Google, and more.
2. Hosting: The next point of consideration is hosting a website. When it comes to hosting, your expenses can range between INR 2,000 and INR 30,000. The amount of money you have to pay will depend on the provider of server services and the plan you select. While hosting service is an integral part of the cost of developing an online store using Shopify, you have to think about your requirements before you choose a plan.
3. Web design: Paying crucial attention to the layout of a website is crucial. Experts believe that the site layout isn't just about aesthetics. By creating a perfect layout, you'll uplift your online store in the eyes of your customers and visitors. Web design incorporates pinpointing the perfect spots for placing icons and selecting the appropriate color schematics. In India, web designers charge anywhere between INR 15,000 and INR 300,000.
4. SEO: A website will never appear on the front page of SERPs without search engine optimization or SEO. Make sure that you don't turn a blind eye to this requirement. Apart from allowing you to show up in searches, SEO will ensure your site remains relevant at all times.
The cost of building an e-commerce store in India can cost anywhere between INR 60,000 and INR 70,000. Just remember that every development agency is different. Some of them may ask for more.
Cost of using Shopify
Shopify has made the task of building e-commerce websites easier with its all-inclusive and comprehensive feature sets. Shopify also happens to be the largest e-commerce platform at the moment as it can offer full-fledged cloud solutions. Shopify can be the trump card you need to grow your business exponentially. Here's an in-depth explanation of the prices quoted by Shopify in India.
1. Basic plan: The basic plan of Shopify costs about $29 or INR 2,200/month. With this plan, you can create a functional website with an SSL certificate. You can update your store with an unlimited number of products.
2. Advanced plan: The advanced plan of Shopify costs around $299 or INR 22,126/month. This plan may seem costly, but it's precisely what you need if you want to take your e-commerce business to the next level.
3. Lite plan: This one is the least-priced plan, and it's available at just $9 or INR 700/month. It lets you set up your entire business via Facebook and Messenger integration. It's perfect for small-scale individuals willing to lay the foundation of their digital businesses without a website. It's also good enough for those who have an existing website and simply want to integrate the sales feature into it.
4. Gold plan: The gold plan is, of course, the costliest. You have to spend about $2,000 or INR 150,000/month to acquire all the features Shopify has to offer.
Final words
Now that you have a basic idea of the cost to build a website on Shopify, you should start searching for web development agencies with expertise in handling this particular e-commerce platform. Whether it's about cloud platform reliability, online solution customizability, or helpful customer support, Shopify has the power to make your digital venture much more enjoyable.