Estimate the Cost of Building an Online Store Website
Date: 25-Nov-2021
When it comes to creating an online store or e-commerce platform, you have to spend money only once. However, for maintaining and managing the same, you'll need a recurring budget to ensure the business rolls properly.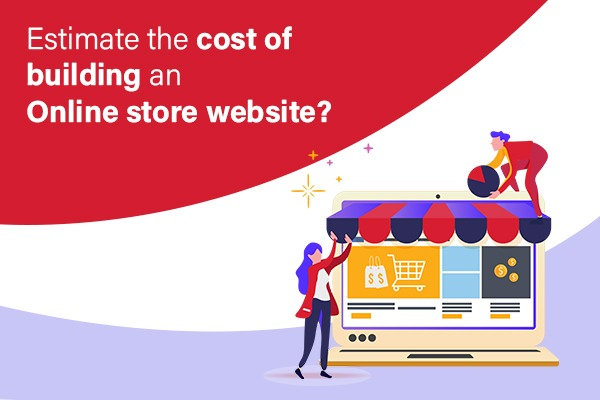 Ascertaining realistic figures to build an online store depends on multiple factors, such as selecting the e-commerce platform, hosting & domain expenses, features, and the freedom of designing. If you need an all-inclusive guide to estimate the cost of building an online store website, just continue reading.
1. Purchasing a domain: The first thing you need is a domain name that'll differentiate your business from other companies. It will define your brand and create a picture of your services. It also has to be something a person can remember easily. To do that, you can turn to one of the domain registering platforms available these days, such as BlueHost or GoDaddy. You'll have to spend somewhere between Rs. 900 and Rs. 1,200 every year. Renewing the domain annually is crucial to ensure it doesn't expire.
2. Looking for web hosting services: As soon as you get your hands on the business domain you need, you have to host it on the internet. To do that, you'll require web hosting services. The expenses associated with web hosting services form a critical part of the cost of developing an online store. Depending on the web hosting plan you choose, the amount of money you have to spend will differ, but it usually boils down to Rs. 500 – Rs. 1,000 per month. Also, a few development agencies can waive off this expense for you with their cloud-based hosting services.
3. Designing the platform: As already mentioned earlier, you have to spend money only once for designing your online store. You must also acknowledge the fact that it isn't going to be cheap, especially if you employ the services of a reputable, recognized, and experienced web development company. Expenses can differ according to your design-related necessities, the experience of the developers, and the fee of the development agency. In most instances, the design cost remains somewhere between Rs. 10,000 and Rs. 60,000.
4. Optimizing it: Building a responsive website is the need of the hour. After all, it's one of the few things that'll ensure your site ranks well on search engine platforms like Google. If you use the web, you should be able to determine the price of responsive web design services. The ecommerce website development cost for building a responsive site mostly remains between Rs. 3,000 and Rs. 5,000 for small and mid-sized e-commerce platforms. For something large, you'll need to pay more.
5. Creating a CMS: If you wish to build a dynamic online store that you'll alternate frequently, then you have to obtain a high-quality CMS or content management system. While it's possible for you to take care of the requirements described above by yourself, you have to rely on third-party service providers for this one. The cost of building a CMS is much higher than designing a website. You have to shell out anywhere between Rs. 100,000 and Rs. 500,000.
6. SEO: The last piece of the puzzle is SEO or search engine optimization. Apart from having a responsive website, you'll need SEO services for it to be able to climb the ladder of SERPs. Depending on the IT agency you choose to work with, you'll get SEO services, along with everything else mentioned here. The overall E-commerce website cost will also include the SEO charges. The contents of an SEO package can differ from one service provider to another, but you'll surely need on-page SEO, off-page SEO, on-site SEO, off-site SEO, and local SEO. For SEO purposes, you have to spend about Rs. 20,000 to Rs. 45,000.
Wrapping it up
It's always beneficial for clients to evaluate the services offered by web development service providers before choosing one. Once you pinpoint the best company that can meet the requirements of your business and e-commerce store, you can give the green light. Don't forget to ask about the development platform they'll use to create your website before the project starts.