The Future of SEO: 8 Trends That Will Influence SEO in 2020
Date: 18-Nov-2019
SEO is evolving and becoming better at enhancing user experience and reading search intent. Here are 8 trends that you need to keep up with if you desire to maintain your search result rankings on the search engine.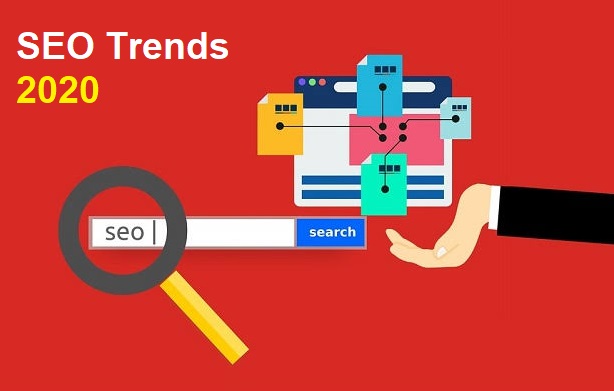 If you are from the SEO industry, you would know how challenging SEO updates can be. They are unpredictable and can swipe off your year-long search engine rankings overnight.
Some may say that SEO is dead. But, I would like to differ - SEO is not dead, SEO is somewhat evolving. Unlike earlier, SEO gives more priority to user-experience than search engine crawlers.
However, there is no denying the fact that Google's frequent updates can hugely impact the websites. The uncertainty that it brings makes it difficult for businesses to plan and strategize accordingly.
Well, to make your SEO planning spot on, we have come up with 8 major things that will drive the SEO game in the year 2020.
Without any further delay, let's dive right in -
#1. Website Page Speed
People today are always on the go! They lead a fast-paced life and look for quick answers to their queries. If your website, content, answers fail to be instant and fast, then you will lose the audience.
As the times move ahead, both the speed and content of the website will become essential key points that will determine where you stand on the search engine. SBased on your target audience, you need to create content that is short, crisp, and informative. The goal should be to deliver the maximum information concisely, in the least time possible.
In this past year, Google has put a lot of effort into emphasizing the importance of load speed time. With Google's recent announcement about slow speed badge for the websites that fail to load quickly, focusing on website page speed is now more critical than ever.
#2. User Search Intent
Google's recent BERT update (October 2019) has made it clear that it is giving priority to the websites that are optimizing their content to meet user's search intent.
Over the years, Google has strictly restricted content with high keyword density and backlinks. We all remember the outrage it caused across the websites when Google rolled out its famous Penguin Update in April 2012. No user likes to click on several website links before getting the information they were looking for. To make search activity easier for its users, Google has introduced several new features over the year - featured snippets, the 'People Also Ask' boxes, the knowledge panel - all of which were launched for enhancing user experience.
As an SEO expert, your goal in 2020 should be to create content, keeping in mind the user's search intent and try to appear on all the search engine features mentioned above.
#3. Smarter and Well-Structured Content
Not just blog articles, but Google will also focus on providing information to the users without their query, and discovering answers to a user's question even if the solution exists in a video/audio/image format.
Therefore, to appear on the search results, you will need to make sure that your content up with structured data. - content includes image files, file labelings, page placements, and landing page quality.
To make your video and audio content more accessible, you can put that content on your website through XML sitemap files and structured data markup.
The near future will also see a complete shift from creating generic content for the sole purpose of achieving rankings for keywords to a targeted, funnel-focused content approach.
#4. Voice Search
This one goes without saying. Voice search software like Amazon Alexa and Google Home are already out in the market, winning the hearts of millions of customers. This voice search software receives the information from Google's snippet - Google's Direct Answers Box and read it out to the user.
Several SEO experts have already begun to optimize their website content using a more conversational and Q/A approach.
For example, if a user asks their device, "What is the best website design company in Delhi?", An SEO copywriter should begin to work on the content in a Q/A format to answer this question.
This prediction also suggests that in the times to come, SEO professionals will invest the right amount of their time in studying their users' search intent and brainstorm the type of questions that they may ask their voice search devices.
#5. A visual-voice hybrid
As it is evident - no one likes to read content in a plain text format, and they no longer want to type in their queries instead; they want to speak to their voice search buddy and have them answer their questions.
In such a scenario, one best way to secure your spot in the search results is by creating content by adopting a conversational format.
#6. Artificial Intelligence and Machine Learning
As artificial intelligence and machine learning continue to advance, Google's machine learning framework RankBrain will get better at figuring out the user intent for every query. This will bring a direct win situation for those businesses who are indulging in customer-centric content marketing.
Also, now, the focus will be more on covering an entire topic in detail instead of creating a generic content around a specific keyword. Having said this, you will need to focus more on your content strategy, instead of keyword density.
#7. Backlinking
As we all know, backlinks are majorly classified as dofollow and nofollow links. We all thought that dofollow links are much more potent than nofollow links. However, as the SEO game is changing, the line between the two has become quite blurred.
Remember Google's Reasonable Surfer? Google does not value every outbound link equally, irrespective of the nofollow tags. This was made clear, years before, back in 2004.
Following the recent trends, famous online publishers like Forbes, Inc, and Entrepreneur have begun to incorporate no-follow external links. Other significant publishers like Huffington Post have wholly discarded their guest publishing features. Other "mom blogs" only accept paid guest blogs now.
If this trend continues, the number of dofollow links will decrease to a small amount that the fine line between the two link types will no longer be apparent.
#8. Focus will be more on branding, not following algorithms
ding, not following algorithms
Almost all of us have been a victim of Google's algorithm updates. Even though we might be able to predict what lies in store for SEO of the future, but we can never be entirely sure about what Google comes up with next.
Future technologies like AI and machine learning will lead to an evolution of the search engine where they become very (I repeat) brilliant that it will become tough to catch up with the algorithm.
Therefore, instead of wasting time on worrying too much about the algorithm, the only best way is to focus on building your business into a brand that your target audience remember by heart.
Why?
It is easy - the more people the people know about your brand, the more you will get the engagement, and the more people will post reviews about your services on the world wide web. This way, the search engine will be compelled to take notice of your business.
FINAL WORDS:
One thing that remains true throughout the history and future of SEO is that - you have a presence on the internet to attract your end customers and not the website crawlers.
Today, most of the websites are struggling with SEO because they are developing content and optimizing their website to target the search crawlers, not humans dominatingly.
Whereas, in the coming future, Google will only focus on user experience and will eliminate everything that affects it.
If you are looking to optimize your website and gear up for future SEO, it is suggested that you hire the best SEO company in Delhi that provides such SEO services that are user-friendly and in sync with the technologies of the coming times.