Understand The Future Of Blockchain Technology In 2022
Date: 23-Apr-2022
Blockchain does have many other implications, but folks primarily associate it with cryptocurrency. So, it's better to start with what everyone knows about blockchain. By the end of 2021, the worldwide market of cryptocurrencies hit the $3 trillion mark, which is an all-time high.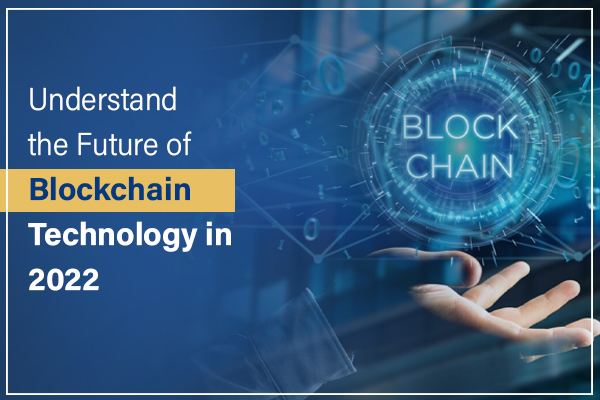 The technology of blockchain is at the base of all cryptocurrencies, including BitCoin and Ethereum. Rest assured, blockchain adoption will continue to increase with time. It'll also support and impact various business operations. Then again, as mentioned above, it has several other implications. Here you'll learn what its future holds.
1. Disrupting financial services: So, what is blockchain technology anyway? It's a digitally distributed and decentralized public ledger existing on a specific network. One area that will evolve with this tech is the system of cross-border payments. Here are a few recent developments leading the charge.
Paystack – It creates infrastructures of payment while connecting payment processors. The ultimate objective of Paystack is to increase the speed and ease of making online payments.
Blockchain World Wire from IBM – This is a blockchain-based conduit leveraged by the "Stellar" protocol. It allows banks to clear and settle cross-border payments instantaneously.
Securrency – It's a cryptocurrency trading platform, but it also facilitates the trading of other kinds of assets. Users can exchange assets through Securrency tokens. It also allows them to trade cryptocurrencies outside their dedicated exchange platform.
AZA Finance – It's an organization that uses blockchain technology for small businesses to send payments and collect the same from Africa. Instead of converting to US dollars during trading, it converts relevant fiat currencies into stablecoins.
Numerai – This firm aims to create an open-source hedge fund by delivering encrypted datasets to thousands of decentralized quantitative analysts. In turn, these analysts create predictive models.
2. For business purposes: The benefits of blockchain expand into the sphere of commerce as well. Business owners aiming to increase revenue, reduce overhead costs, and make better use of time should invest in blockchain. Here are a few examples worth stating.
LVMH – It's a company manufacturing luxurious goods. The brand tracks its products and stops instances of counterfeiting through blockchain. By working with Cartier and Prada, LVMH registered more than 10 million products on a platform it designed.
ConsenSys Quorum – Created by JP Morgan, Quorum is an enterprise-level service that helps business companies grow and manage massive-scale networks of blockchain tech.
MediaChain – Spotify acquired this blockchain database to manage royalty payments and copyrights while resolving issues associated with rights holders.
3. For the law: The future of blockchain is indeed bright because it has a role to play in the sphere of law and order too. People associated with the law can use blockchain to fabricate smart contracts and validate ownership documents, such as title deeds. Blockchain can even augment the criminal justice system if the authorities use it to validate, authenticate, and secure evidence for courtrooms. Here's a description of smart contracts if you don't know – they're digital contracts upholding the nature of legal contracts. They don't need human intermediaries or involvements. Blockchain creators will write the contract using codes. These codes will get executed as soon as the parties meet the agreed-upon conditions.
4. For real estate: It's safe to say that the transactions associated with real estate are always expensive. They also require a lot of paperwork and the support of real estate agents. Blockchain is powerful enough to ease the process of finding and purchasing real estate. It does so by incorporating a process called tokenization that involves using digital tokens of real estate to represent physical assets. This strategy will do the following.
It can ease the transferences between buyers and sellers by eliminating the middlemen.
It can provide irrefutable ownership proofs through a distributed digital ledger.
It can facilitate smaller real estate investments because it's possible to divide a token, just like a BitCoin.
It can improve market transparency and security as every transaction gets processed and approved by others.
5. For logistics and supply chain: Supply chains are the links connecting the phases of product creation and product distribution. It's a field that gets disrupted constantly by innovation. The supply chains of today are much more complex than they used to be. They connect several continents and include hundreds and thousands of payments and invoices, apart from numerous entities. Also, some of the transactions continue for months. Only blockchain has the power to simplify such a level of complexity. Whenever the merchandise gets transferred to a new step in the chain, the participants can log the process securely and permanently. As a result, they create an immutable and auditable history starting from the origin point to the sale point.
Conclusion
The information provided above includes just a few instances of how the different aspects of society have been using blockchain. It proves how crucial this technology will become in the future. It highlights the implications of blockchain and how it'll dictate trade, businesses, and worldwide economies. It also proves the importance of blockchain for business owners, decision-makers, and traders. That's why the time is ripe for you to start thinking about implementing blockchain in your line of business.