How Much it Would Cost Me to Build an Ecommerce Portal in 2021?
Date: 06-Oct-2021
Business in the recent times is quite unimaginable without an online presence. It is not only the E-Commerce brand, but also every other commercial entity who are trying to build a strong presence across the virtual platforms.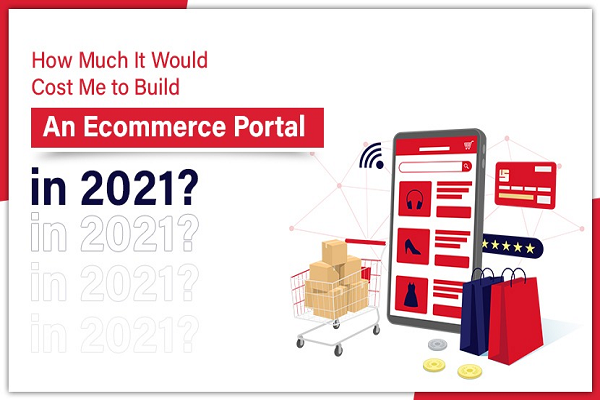 Developing a dedicated corporate commerce portal is the first step in this direction. However this is one of the most technical tasks and hence must be entrusted to professional experts of the domain only.
Understanding the cost estimate
As mentioned in the opening of the discussion developing an e-commerce portal is highly technical project. Estimating the actual cost of developing such E-commerce website requires precise knowledge into the domain. To understand eCommerce development cost we need to get a hang of the various elements that are playing a role in development of e-commerce websites. This to a large extent will help us to determine the cost of the project.
Major questions of the project
Before you try to build an estimate for developing an eCommerce website you need to answer a couple of questions, they are:
The volume of sales you wish to drive from your E-Commerce portal
The kind of functions and features you wish to embed in your website
One thing that stands quantified is that the Cost of Developing An Ecommerce portal in India can differ to a great extent depending on your responses to an above-mentioned couple of queries.
Factors determining the cost of E-commerce website
Let us take a look at the elemental factors or catalyst that most definitely influences the cost estimate of any E-commerce website.
Design: This happens to be one of the main features which have a direct and a tremendous influence on the cost of any E-commerce website development. Talking about designs there are a couple of options like a fixed template or a customized design. Depending on which of the two you are selecting, will greatly determine your website development cost.
Functionality: The affectivity of your website gets determined by the kind of functional features you have embedded into it. However you must bear in mind that customizes functional elements can add to the cost of your website development.
Data import: In case you are looking for customer data imported for historical data it will also increase the development cost of your website. Before deciding on the website functions you must have the complete database you think you can require.
SEO: Merely having a website is not enough in the current time. Search Engine Optimization or SEO strategies help to offer your website much greater visibility. However, a full-fledged strategy of SEO plans can definitely shoot up the Ecommerce Portal Development Cost.
Integration: If you're planning to integrate your website with a third-party system such as ERP it can also increase the cost of your website making.
General cost estimate
If you take a general look at the current industry and the creative patterns which are in practice for E-Commerce websites it can be said that the cost of developing a website for an online brand will be something between $10,000 to $50000. It is only correct to mention that your final goals and attributes which are guiding you in developing your E-commerce website are the main catalyst that will have a profound influence on the overall cost of your website development.
Ascertain your requirements
At the very beginning of the project as the entrepreneur who is paying for the website development, you must ascertain the exact requirements you have from your online E-Commerce portal. To begin with, you must clearly underline the kind of sales volume you are going to target out of your eCommerce website, on the basis of this calculation you will go ahead to plan the products services, and features you would like to embed into your eCommerce website. Further, the number of segments of products and services which are included into your E-Commerce portal will also affect your overall website development cost.
The continued process of Expenditure
At this junction, it is imperative to point out that eCommerce website development is not a single time process. This means once your E-commerce website has been developed and has been installed it does not mean the end of expenditure.
Soon after the initial designing and installation of the website, expenditure for maintenance and improvisation of the website is a mandatory feature without which an e-commerce portal will not be able to sustain the challenges and competition of the market.
Entrusting professional experts
One of the best ways to go about planning for an E-Commerce portal in 2021 is to connect with a proper website development partner. Developing an eCommerce website is one of the most technical tasks that belong to a niche skill margin. experts developing such sites can not only influence its quality but can also control the budget to a great extent.
If you wish you have the correct ecommerce website price in Delhi the very first thing you must do is get into a detailed discussion with the professional website developing agency. Trained professionals with adequate experience and exposure into the domain who will not only help to build your brand image, design a perfectly functional interactive and informative website, but at the same time will also be able to give you a correct estimate of the cost of the project.
Additional costs
There are a number of other aspects as well which affect the overall costing of website development for any online brand. Attributes like domain name, website hosting database, integration, eCommerce CMS product, and database maintenance, kind of images included into the website design, training and support provided by the website developers, are some of the other aspects that can affect the overall pricing of developing the website for the online brand.
In case you wish to streamline the overall budget of your website development project these are some of the aspects that must be calculated and assessed at the very beginning. They can make a major difference to the quality of your website and also its cost.