How Are SEO and SEM Different From Each Other?
Date: 11-Oct-2019
As the name suggests, Search Engine Optimization and Search Engine Marketing are two different things, but since many people tend to confuse between the two, as the best website design company Delhi, it is our duty to clear this confusion.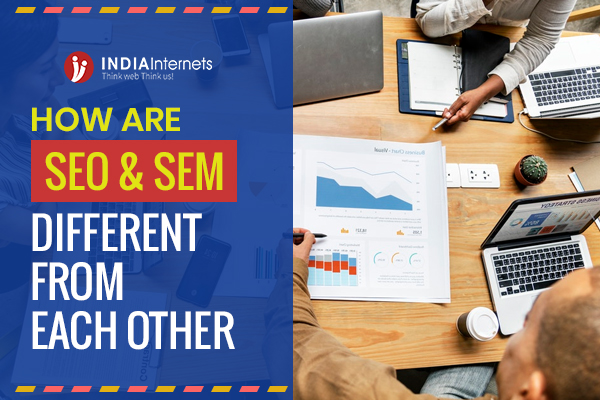 If you want to have your successful presence on the internet today, just posting grammatically-corrected content and attractive graphics on your website will not be enough. Search optimization is an important marketing element for every brand that is trying to draw attention, website traffic and expand their business.
Before one goes into actually implementing search optimization, it is crucial to know the difference between SEM and SEO. While SEO stands for Search Engine Optimization, SEM stands for Search Engine Marketing. Often times, people tend to confuse between the two terms and use them interchangeably.
Before we step any further, it would be better if you go through An Easy-To-Understand SEO Basics For Beginners here.
In this article, you will get a clear idea about what SEO and SEM are, how are they different from each other.
The main difference between SEO and SEM is that SEO is an organic search marketing strategy, and SEM is a paid marketing strategy.
Tip: Because people tend to use these two terms interchangeably, it is advised to discuss these two terms with your teammates before working on a project.
SEM:
SEM or Search Engine Marketing focuses on the paid strategies for gaining visibility in the Search Engine Results Pages (SERPs). SEM is concerned with both the activities including setting up ad campaigns and defining a budget for paying for the ads placements on the SERPs.
Google Ads (earlier known as Google Adwords) is the most popular tool for initiating this strategy. Marketers use this tool to target the best keywords for their goods/services, business or industry. When the user search a query using the targeted keywords, they see custom ads placed on the SERPs. The business is charged everytime a user clicks on the ad.
Following the SEM strategy, the marketer is expected to perform the following tasks -
· Keyword research and analysis
· Setting up of paid ad campaigns for the targeted keywords
· Users' search intend for the targeted keywords
· Monitoring how the users react to your ad placements on the SERPs
· Setting up of a definite budget for paying for every time a user clicks on the ad
SEO:
SEO or Search Engine Optimization stands refers to the marketing strategy that involves optimizing the website to garner high rankings and more search traffic organically from the SERPs. This is the organic form of search engine marketing that uses many strategies for making the website rank higher on the SERPs when a user enter their query on the search engine.
To list down, there are more than 100 white hat SEO strategies that fall under SEO. These strategies are often clubbed into three categories-
· On-page SEO: This category focuses on optimizing every individual web page of the website by targeted certain specific keywords to appeal to the search engines. On-page SEO strategy includes:
- Keyword reseach
- Creating quality content
- Analyze the keyword optimization checklist
On-page SEO helps the search engines in comprehending the content of the page, and therefore, (if relevant), gie it higher ranks on rhe SERPs.
· Technical SEO: This category optimizes the technical elements of the website including the backend structure. Technical SEO looks after:
- Mobile Friendliness
- Indexing
- Crawlability
- Site architecture and site map
- Structured data
- Site security
Technical SEO optimizes both the user experience as well as the crawler experience leading to better search engine performance.
· Off-page SEO: This SEO strategy focuses on website's reputation and the authority in comparison to the other websites. Off-page SEO includes:
- Link building & quality backlinking strategy
- Managing local listings & directory profiles
Backlinks are votes that suggests the search engine that your website is relevant and authentic for a query placed, and therefore give you higher ranking on the SERPs.
An effective SEO plan not just focuses on any one of the above mentioned sub-categories instead, it combines all these three categories to ensure that the website is optimized in every way for garnering best results.
What Are The Other Differences Between SEM And SEO
As mentioned in the beginning of the article, SEO is the organic form of search engine marketing and SEM is the paid form of search engine marketing. Apart from this difference, both these sub-categories share other differences as well-
· SEM search placements have "Ad" designation, while SEO doesn't. SEM's paid ads are identified by an icon of "ad" appearing near the placement.
· SEO search results have featured snippets, and SEM search results have ad extensions such as ad extensions, additional links, phone numbers and callouts.
· You don't have to pay anything when the user clicks on your SEO results whereas, you pay every time a user clicks on the SEM results.
· The impact taken by SEM is quick as compared to SEO that takes time. With SEM, as soon as you start an ad campaign, your ads start to appear in SERPs. Whereas, SEO strategies takes time before the impact is visible.
· SEM is more flexible than SEO as the marketer can quickly make changes to the ad copy and the results will be visible immediately. Whereas, SEO takes much time to make changes and analyze differences in results.
What Are The Simlarities Between SEM And SEO
Despite the difference between the two search marketing strategies, SEO and SEM also share some similarities-
· Both of them help your website appear in the search results
· They help in driving maximum search traffic
· Both of them are highly targeted
· Make use of keyword research strategy
· Target specific keywords
· Require regular monitoring and analysis
Which Is Better For Your Business - SEM Or SEO?
There is no legitimate answer to this question. It depends on various parameters. Consider the following questions to figure out which of these search marketing strategies will suit your business the best-
1. What is the competition in your industry like?
· If you are experiencing high competition for the keywords you have targeted, then you should prefer SEM.
· If there is a lot of organic potential and there is average competition for your targeted keywords, you can give SEO a try.
2. How well do you know your market segment?
· If you are a new player and are just beginning to get hold of your market environment, you should choose SEM for creating quick awareness around your brand.
· If you have been in the industry for quite sometime, you should choose a more organic approach i.e. SEO for maintaining the trust of the search engines.
3. How long is your customer's average buying cycle?
· If the average buying cycle is for a longer period, then you can market your business on the search engine using SEO.
· If the average buying cycle is for a small period and you require to increase your conversions quickly, you should use SEM search engine strategies.
Work On Both Seo And Sem Strategies For Your Online Business
There is no rigid answer to which strategy to use: SEM or SEO. It depends on the situation, the type of business and goals it is trying to accomplish. By answering the above three questions, you will easily know what will work for you the best.
One main thing that both SEO and SEM have in common is you need to be careful and have immense patience. Search engine algorithms keep on changing and therefore, you will need to work on your SEO and/or SEM strategies regularly. Considering that as a business owner, many business areas need to be taken care of, it is recommended to hire the best SEO agency in Delhi that has a proven track record of providing the most efficient SEO services.