Design a School or College Website at Low Cost
Date: 02-Nov-2021
Today, you'll find several micro-level web design organizations and freelancers willing to offer their services. These companies and individual service providers often charge as low as Rs. 3,000 for their work. So, should you entrust your project to these service providers?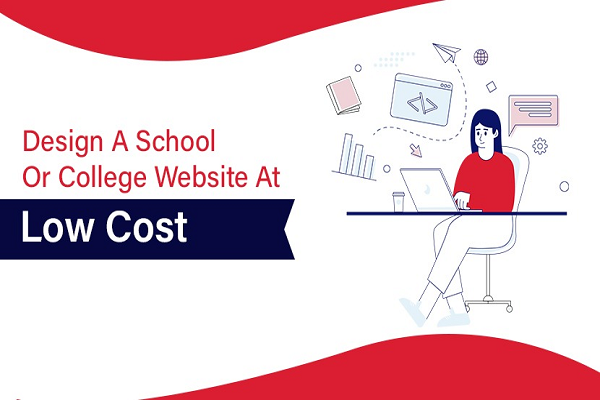 So, you have decided to create a website for your school or college. Great! Now the next thing that comes to your mind is "how to design a school website and what will be the cost of building a school website?" So keep reading to get the tips to design a school website in India. However, it's also worth mentioning that you should employ the services of a formal web development agency if you expect the best results.
1. The home page: Whether you opt for costly or Low-Cost School Website Design Services, you'll need a homepage before anything else. It should have two or more banners to convey your organizational USP. Just try to refrain from sharing generic pieces of information as they make audiences feel bored. Every viewer will expect something different from your education establishment's website. If you offer the same thing as others, why would they bother sending their children to your school or college?
2. An "about us" section: There has to be an "About Us" section on the website. Specialists of education portal development for school will add it with or without your consent because it's a basic protocol for developing websites. However, the mission and vision statements of your establishment are things that only you can provide. Make sure it sounds prestigious. You shouldn't make the mistake of skipping the mission and vision statements.
3. A page for courses: The other two pages mentioned above will play crucial roles in explaining why anyone should choose your educational facility for your children. This one, however, is much more important because it'll elucidate the courses you're offering. This page will be the main driver of admissions.
You have to educate the users about the courses you're offering and their importance. You should also include a download button. By clicking on it, users will be able to receive a digital copy of the detailed course brochure.
Now, you must generate interest among users by informing them about the placement opportunities the students will get once they complete the courses of their choice. This page will help a student select a course based on his/her career objectives.
The courses page should have a call-to-action. It'll play the role of an option for the user to reach you directly without navigating to the "contact us" page for more information or finalizing admission.
Don't forget to include a list enumerating the names of the faculty members working at your educational establishment. You should also mention the departments they're in charge of.
Final words
In the end, consider replacing the queue system with an online application portal. Students will fill the application form on the web, attach all necessary documents, make payment, and submit the application within moments. By incorporating this system, your school or educational website designing cost will increase, but it will surely benefit you in the long run as more students will opt to join your establishment.