What is the Cost of Redesign a Website in India
Date: 17-Nov-2021
The pricing of website building and rebuilding services has always been a tough nut. Some companies will ask for just $300 to create a website for your business. Others will expect you to pay them $50,000 or even more.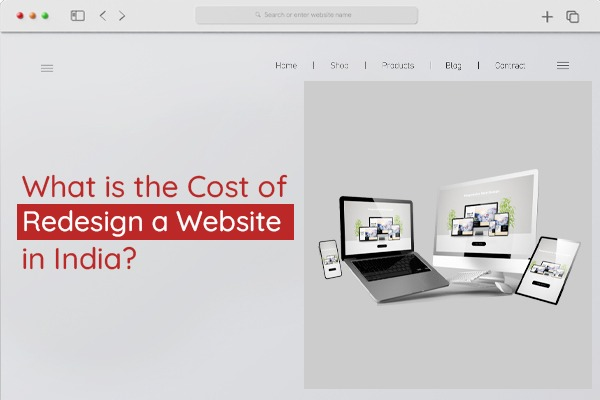 In the sphere of website design, the age-old adage "you get what you pay for" dictates just about everything. However, it isn't as simple as it seems. If you want to customize it, you'll inevitably have to pay more.
Reasons for redesigning
Your story is going to be a bit different, especially because you don't need to create a website from scratch. To you, knowing the cost of website redesigning in India is crucial as you aren't receiving adequate traffic. If you're incapable of creating charts for your business goals and targets, redesigning is the only option. Specific factors play significant roles in determining whether a website is good or not. You won't be able to avoid web redesign if you have the following problems.
Inappropriate SEO
Design mistakes
Design inconsistencies
Broken links
Low-quality copywriting
Error 404
How much to spend
The cost of building a website, as already mentioned above, can be anywhere between $300 and $50,000. Fortunately, the expenses associated with website redesign India are much lower. Nevertheless, the price depends on multiple factors, and some of them are unique to your company while others are unique to the agency you hire for the job. Among all the factors worth considering, the size of the site should be at the top. It influences the cost of redesigning a website more than others.
Small sites
Small websites usually have anywhere between one and fifty pages. The website redesigning cost in India for such sites should range from $3,000 to $24,000.
For cosmetic improvements, you'll have to spend anywhere between $3,000 and $5,000. Cosmetic improvements include revamping the layout and rewiring.

Updating and improving the backend of a small website can cost you between $7,000 and $15,000. By upgrading the backend, the site's usability and functionality will increase profoundly.

For marketing purposes, business owners with small websites usually spare about $3,000 to $5,000 per month.
Medium websites
As you can probably guess, the price of website redesigning services for a medium-sized website with 50 to 150 pages is going to be a bit more than smaller sites. You may have to spend anywhere between $24,000 and $40,000 for it.
Cosmetic updates for such websites should cost you $9,000 to $15,000, along with a few minor changes to the backend. Of course, your choice will dictate whether the company will upgrade the backend a bit or not.
Full-fledged backend enhancement can cost $16,000 to $28,000.
For marketing requirements, you should have a budget ranging between $4,000 and $6,000.
Large websites
Large websites with 150 to 250 pages will naturally have a high website redesigning price in India. It may amount to anywhere between $36,000 and $65,000.
Cosmetic enhancements of such websites should cost $15,000 to $25,000.
Backend revamping should cost you somewhere between $24,000 and $47,000.
For marketing purposes, it's best for you to set aside $6,000 to $8,000.
Endnote
Well, there you have it – a basic breakdown of the cost of getting a website designed by experts. Just remember that the prices mentioned above can change drastically due to the presence of so many web development agencies.