What is the Average Blockchain App Development Cost in India
Date: 26-Feb-2022
Blockchain happens to be one of the trendiest and talked-about technologies of today. Most people recognize blockchain simply because of cryptocurrency and bitcoin. However, there's more to it than that.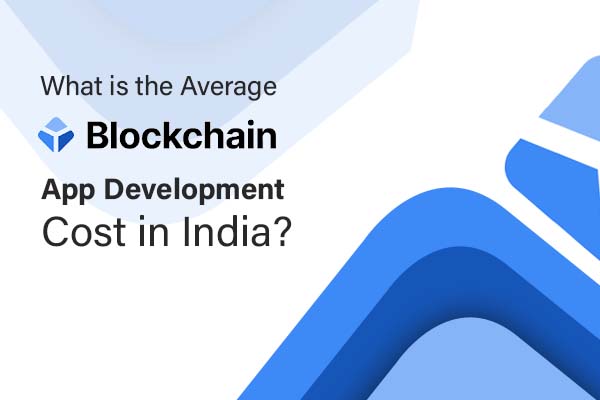 The uniqueness of this particular form of technology allowed it to transform the way business companies operate. Transactions have become much safer and more secure than ever thanks to blockchain.
The advantages
Here you'll receive a lot of information on blockchain technology. You'll find it useful, especially if you're willing to pay the blockchain app development cost in India. It's best to start with the perks of blockchain.
1. More security: Blockchain is like a synonym for "security." Many business owners are already incorporating this smart solution to keep their transactional data safe and secure. Due to the encryption and computerized mark, blockchain is an exceptionally secure framework.
2. Preventing frauds: The security standards of blockchain solutions are out of this world. It's one of the main reasons why it can rebuff fraudsters. It's a framework that relies on information tucked away same in multiple locations. No one can gain access to it without proper authority.
3. Transparency: Blockchain systems follow the principle of distributed ledgers. All the members of a team will share this ledger, which they can validate at any point in time. Just like customers, banks and other financial institutions get informed about the finishing of exchanges. It's both reliable and advantageous.
Factors affecting development
Today, numerous mobile app development agencies offer blockchain app development services. They follow different processes to build blockchain solutions. Naturally, the expenses of development also differ. Nonetheless, specific factors affect the cost of blockchain solution development, and they're usually the same.
1. Development agency size:
This one is an obvious factor. There are three categories of companies offering blockchain development services based on size.
Small scale – These companies have smaller teams and are usually new entrants in the market. They have about ten to fifty blockchain experts who offer their services at anywhere between $15,000 and $30,000.
Mid-scale – These companies are perfect for business owners willing to spare the blockchain implementation costs. Such organizations employ experienced teams to deal with blockchain projects. They charge somewhere between $30,000 and $70,000.
Large-scale – Large-scale businesses tend to be quite costly, but they also have the best and most experienced teams. They're also very particular about the projects they pick up. After all, they don't want to waste time on projects that won't add anything to their portfolios. Such companies charge between $60,000 and $150,000 for their services.
2. App type:
Every business, regardless of its size and scale, needs smart solutions. The technologically-advanced systems of today can help business owners maintain and even increase business capacities. There are two types of blockchain apps you can build.
Cryptocurrency solutions – As you can guess from the name, these applications are exclusively for cryptocurrencies. You have to integrate such an app with one or more cryptocurrencies to make it work.
Solutions for non-crypto currency options – These solutions don't need cryptocurrencies to operate. They adhere to the distributed ledger system. That's why it's popular among logistics organizations and financial establishments.
3. App complicatedness:
Developers will consolidate different elements to characterize the multifaceted nature of blockchain applications. Naturally, your first point of consideration should be the reason to build such a solution. You must specify the problems you're currently facing. For a relatively non-complicated application, the cost to develop a Blockchain app should be between $5,000 and $35,000. Here are the factors dictating app complexity.
The platform used by developers to create the app
The mechanism selected by your developers to build the app
UI/UX design
Tech stack
API Integration
Time required
At this point, you're probably wondering how long it'll take your developers to build a full-fledged blockchain solution. It depends on the app's innovation and necessities. The venture for blockchain solutions starts with PoC trips of about twenty to thirty days. After accomplishing the same, it takes another thirty to forty days to create a suitable item with restricted highlights. The process followed by the developers also affects the time required to complete the project.
Cost of development
If you've been going through this write-up from the beginning, you already know the factors dictating the cost of development. Apart from development time, app platform, development stages, technologies used, building procedure, and maintenance affect your expenses. In short, you have to spend somewhere between $25,000 and $200,000 to build such an application. A costlier app will always come with significantly enhanced features.
Wrapping it up
As you can see, paying the cost to make a blockchain app makes perfect sense. Numerous industries are already using blockchain platforms and solutions. Those who aren't using it are getting ready to invest in it. This technology has been evolving consistently over the last few years. No matter how many blockchain experts you speak to, everyone will say the same thing – it'll be beneficial for businesses.