What is Corporate Web Design And How Will It Attract More Audiences?
Date: 21-Aug-2019
Corporate web design will not only help your website have an impressive design that will help with the branding of the business but also it will help you generate more leads and revenue through the sale of your offerings via your website.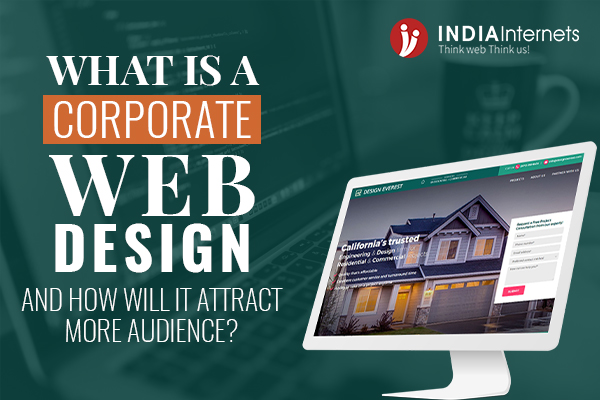 Corporate web design will incorporate the "feel" of your business effectively, you will be able to do more than just display your offerings on the site. Remember, today, your website is like your ultimate salesperson. This will also help your business increase its corporate image. In this internet-driven world, your reputation depends upon the type of website you have. People generally consider a business as rather old-fashioned if they do not have an official-attractive website.
Therefore, with the help of well-executed corporate web design, you should have the following factors incorporated on your site:
· The feel of the site:
Focus on the site's simplicity, readability, presentation, and accessibility. Your website should perfectly portray everything that you as a business stand for. Add things like business timeline, mission and vision page, clients' testimonials to make the site look more appealing and trustworthy.
· The text on the site:
You have to decide the type of information you want your visitors to read on your site, the text must be clear and concise, the message you want to convey must be clear and simple.
· The images and graphic elements on the site:
Most of the people don't have the patience to read word by word, therefore you must have high quality images, creative and inspirational corporate photos for enhancing your corporate image. It is recommended to not add free stock images on your website because it will give a rather inauthentic feel to your site.
· Emphasis on color palettes:
The color affects the perception of the visitor about your company. If you want to portray seriousness in your business, use dark color designs. If you want to show trustworthiness and integrity, use blue hues. If your website is concerned about the environment, it is recommended for you to use shades of green.
· The Search Engine Optimization of the site:
One of the main elements, making your site search engine friendly will attract more crawlers for indexing your site's URL higher on the search engine list. This is done with the help of using keywords and keyword phrases that the visitors generally enter in the search engine box for searching relevant websites.
Since a corporate website has many different web pages, only a professional corporate web designer can do justice to the entire corporate website. There goes a lot of hard work, and brainstorming sessions, and designs before coming up with a final web design that is suitable for the particular business. Apart from the design, the dedicated web developing team also plays a vital role in putting life to every graphic element on the site and then making it live. Therefore, it is recommended to hire the best web design company in Delhi for your corporate web designing needs.