Top Benefits Of Responsive Website Design In SEO
Date: 08-Mar-2022
If you research the importance of responsive web design, you'll find it's what Google recommends. It's the design pattern suggested by almost every search engine.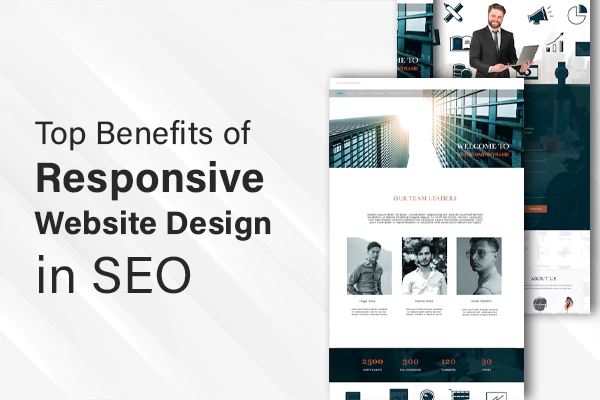 Website responsiveness is an unequivocally crucial factor right now because it improves user experience. Furthermore, it can help you avoid some of the most common pitfalls of search engine optimization that can affect rankings. So, if you want to unearth the most noteworthy benefits of responsive web design, this topic requires your attention.
1. The mobile-first approach: Everyone knows that the tech giant Google currently prioritizes mobile devices more than anything else. That's why it introduced the "mobile-first" approach. Most users access the internet using their mobile devices instead of desktops. Naturally, it's of the utmost importance for business owners to ensure their websites get rendered with ease on every device. It's something you can achieve via responsive web design.
2. Usability improvement: Here's another one of the benefits of a responsive website in SEO – it improves usability. The amount of time spent by your users on your site can tell you a lot. For instance, you'll know whether your site offers them what they seek or not. If someone feels unsatisfied by your website experience or content, he/she won't stick around. However, you can make a website more accessible, fast, and easy to navigate if you resort to responsive design strategies.
3. Customer experience enhancement: The ultimate objective of Google is to keep the users happy. It does so by showing them what they want in terms of content. If you build something user-centric, Google will possibly reward you with higher rankings in the SERPs. Responsive web design is precisely what you need to deliver a positive user experience. By making your users happy, you can turn them into paying customers, leads, or subscribers.
4. Page speed improvement: Another factor that affects website SEO significantly is the page loading speed. The rate at which your website loads on a user's browser will dictate his/her experience. If that's the case, the necessity of an optimized, fast-loading website should be clear to you. Fortunately, it's one of the advantages of a responsive website. If you build or rebuild your website responsively, it'll load faster than usual.
5. Bounce rate reduction: The bounce rate factor requires your attention as much as the others elucidated above. It points to how quickly a user visits and leaves your website immediately. If the bounce rate of your site is too high, it means you're not being able to satisfy your users. Bounce rate can also increase if your website fails to load quickly or doesn't provide a positive experience. The only way to reduce the bounce rate is to build a responsive website.
6. Avoiding content duplication: When you pay attention to your website's responsiveness, you prioritize its content and overall UX. Of course, building a responsive website can't stop you from creating duplicated content. However, it can point out your mistake if you publish a copied piece of content. Instead of creating two different websites with the same content, you should build only one responsive platform. This website will appear only on mobile devices.
7. Social sharing: When a user finds your content interesting, he/she may want to share it with friends. The presence of a responsive website will make it easier for users to engage with your site. Your users can enjoy the content thoroughly and share the same via social media. Many of the web developers with experience in responsive web design create sites with social sharing abilities. Social sharing won't affect your rankings directly, but it'll help you build your audience online.
8. Cost-effective option: You shouldn't worry about the cost of responsive web design because it won't break your bank account. Of course, there are other ways of augmenting your website's search engine optimization. However, none of those options are as cost-effective as responsive web design strategies. With just one responsive website, you can bolster your SEO ranking profoundly.
9. Boosting your backlinks: No matter how many SEO experts you speak to, everyone will be in favor of link-building. The more high-quality backlinks you can acquire for your website, the better it will be. However, the number of links you can accumulate won't be of any consequence. You must prioritize only high-quality backlinks. Fortunately, you'll get more of them than usual if you build a responsive website.
Summing it up
When you come up with a mobile-friendly strategy and use it as your base for website design, you'll achieve success. Responsive designs always put the users above everything else. It makes things easy for your users to engage with your site. It also helps Google recognize your web platform as something optimized for various devices. If you try to incorporate responsive web design strategies from the beginning, you'll achieve a full-optimized site structure. In turn, the site structure will ensure the website works on every device with a screen.