Medical Web Design & Development: Create a Trendy Up-to-Date Medical Website
Date: 04-Jan-2022
Everyone seeks medical assistance at some point in time, and they do it online when they can't get what they need offline. Besides, after the pandemic, opting for online medical services became the norm. Also, for medical practitioners, having an online presence is mandatory these days.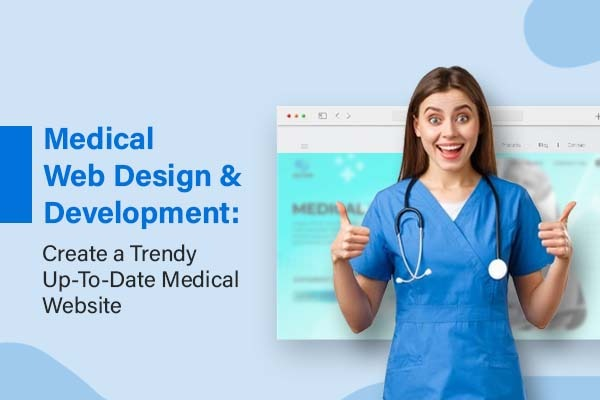 If you're a medical practitioner, or if you're a business owner with a stake in the business of offering medical services, then this topic deserves your attention.
The problem with digitization
This topic will primarily focus on developing websites for medical practitioners. Modern technology isn't anything less than a blessing for humanity. Apart from allowing folks to travel far from home and letting them enjoy conveniences previously unfathomable, it lets people live longer than they ever thought possible.
However, in terms of digitization, the healthcare industry is lagging behind. It's nothing short of a significant loss, especially when you consider the fact that almost 50% of all people rely on the internet to gather information on medical specialists before visiting a clinic.
The trends
Whether it's about the complications associated with transferring data from paper-based media to electronic devices or government-imposed bureaucracy, the medical industry has a long road ahead of it to travel to become digitized. Fortunately, the process has started.
Many medical establishments are already using electronic health records or EHR and electronic medical records or EMR systems. Also, telemedicine is among the top software development ideas this year and beyond.
The perks
There's no point in arguing whether healthcare service providers need websites or not. Without Medical Website Designing & Development, no one will believe that you even exist. You may question the truth of this statement if it concerned someone's Facebook page, but when it comes to growing a business, there's no other option.
1. Accessibility: For starters, website development for your medical practice will increase the accessibility of your services. Websites are much more accessible than call centers because you don't need too many employees to operate them. Online platforms are also free from phone queues, and they offer a lot of visual information to patients.
2. Online presence: Your website will be the face of your medical establishment online. You need it because everyone turns to the internet whenever they seek information.
3. Visibility: Of course, you'll need SEO to enhance the visibility of your website on the internet, but once achieved, folks who aren't your patients yet will be able to find your clinic easily.
4. One place for info: You can provide every kind of information about your clinic in one place. It includes information about the doctors working with you, their credentials, and even the services you offer.
5. Marketing opportunities: Finally, web development for your medical business can provide you with more promotional opportunities.
Designing the website
Your website won't just be the face of your medical establishment on the internet. It'll serve many other purposes. That's why you need to be careful when designing it. Web design trends tend to change somewhat frequently, which is why you need to keep your site updated regularly.
1. Colors: Your website should feature your corporate colors so that everyone can associate it with your clinic the moment they see it. Today, experts suggest opting for bright colors as they can alleviate a patient's fears and brighten his/her mood.
2. Design cleanliness and navigability: The best way to achieve design cleanliness is to stick to the trend of minimalism. You have to make the most important sections stand out by getting rid of redundant information or rearranging the pages to ensure they're easy enough to view.
3. Accessibility: Accessibility is yet another popular trend in the sphere of web development. With web design accessibility, it becomes easier for individuals with physical or mental disabilities to use the website. For medical online platforms, accessibility is much more vital than any other website.
Cost of development
If you wish to contemplate the cost to develop a medical website, you have to ascertain the features you wish to include in your site. You must also consider the design and select a web development agency. Every IT firm charges differently. Naturally, you have to dig it out by yourself. Your project will need the attention of the following specialists.
Project manager
Web designer
Front-end developer
Back-end developer
QA specialist
Usually, the cost of development ranges between $35,000 and $65,000.
Endnote
You mustn't hesitate to pay the cost of medical website designing in India because, without a website, you may very well be nonexistent. As the medical industry is taking time to become more digitized, the time is ripe for you to make the jump. It's an opportunity you can use to get ahead of your rivals. You should start searching for medical web design service providers at the earliest. Just don't make the mistake of choosing one before researching thoroughly.