Importance of Web Design in E-Commerce Website
Date: 05-Aug-2019
E-Commerce is increasingly becoming popular among businesses for expanding their business avenues and future possibilities. Because of the paradigm shift of consumers from brick-and-mortar stores to online shopping, businesses these days are quick to adapt to the changing business models. Because of this paradigm shift, E-Commerce websites are flourishing on the web successfully. Website designs play a significant role in defining the future of an E-Commerce Website.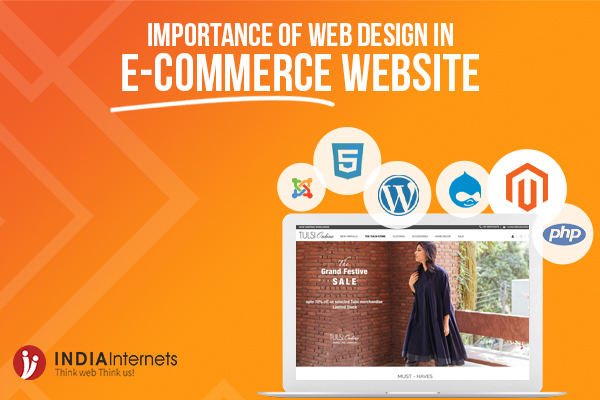 These E-Commerce websites are designed and crafted in a way to attract customers, encourage them to click on the Call To Action, buy the products, and stay on the site for a longer time exploring other options. The best, dedicated web designers make sure that the E-Commerce website incorporates the feel and look of the business, portraying its vision and mission - all of it in a not boring, but attractive layout to ensure that the customers feel vibrant being on the website. The top web designers take care of a sorted format and configuration, proper navigation, and making the website more responsive and user-friendly. The web design also makes sure that the content of the website is SEO friendly and easy to comprehend, and integrate many professional gateways while creating these E-Commerce websites.
Because creating an E-Commerce platform takes a lot of things into consideration such as the navigation, product display, content, the responsiveness, checkout cart functions, payment getaway, and guest sign-ups, etc, designing an E-Commerce website requires an expert website designer who is proficient enough to make the E-Commerce website a big success. Most apt web design is important for having a good impact on the online sector because you want your customers to browse through your products effortlessly. This requires the web designer to be intuitive enough to think from the end of the users, thus it requires professional and experienced web designers.
You need to make sure that your website is not designed poorly, or else you will be unable to make extra money. The main task of every web designer is to create such an impressive layout that goes with the theme and feel of the business and also, attracts more and more traffic to the site.
As a business, you should be smart enough to pick such an E-Commerce Website Designer that can very well understand your business, your business environment, your needs, and accordingly design an E-Commerce store. Always remember, that an attractive and user-friendly website is the one that makes the people stay on the website for a longer period of time.