10 Web Designing Hacks That Will Help You Boost Your Online Business
Date: 27-Aug-2019
As a website designing company in Delhi, we know how difficult designing can get sometimes. Therefore, we have compiled a list of our precious web designing hacks that will help you out.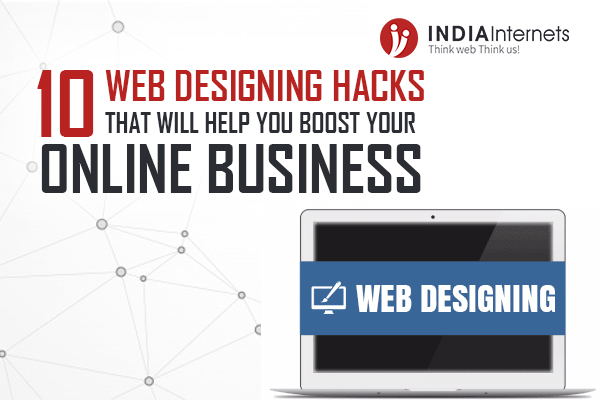 In today's business environment, the most effective salesperson you have is your website. According to the current trends, the first point of contact that your business establishes with its clients is through a website.
Therefore, your website plays an important role in deciding whether your prospect would want to convert into your customer or not. If your website receives a lot of traffic but only a few conversions, then you need to diagnose your current website.
The research indicates that about 75% of users will judge your brand and its credibility on the basis of the design of your website. The users devote a fraction of their time to a website i.e. generally less than 8 seconds. Most of your first-time visitors that visit your website are not ready to buy. They are generally in the initial stages of the buying process where they browse through all the options available to them by comparing the options available to them.
One of the hacks to get your website design right is to go through the websites of other businesses in your niche area. Visit those websites as a user and not as a competitor, and take notice of what you liked the most about their website, their presentation, the information they have put on their website, and the keywords they have targeted for their SEO practices.
The other 10 tricks that you should consider while evaluating your website design are as follows:
1. Color:
Colors are effectively used for stirring a certain kind of emotion in your visitors when they visit your website. It also helps in processing and storing the images more effectively in the brain storage, therefore helping in brand recognition and encouraging visitors in taking call-to-action. It is advised to avoid using red and green colors for your entire website because of the users with color blindness or deficiency struggle with them the most. You should consider your target audience while choosing a color theme for your website, for eg, if you are targeting women, use colors like blue purple and green; and if you are targeting men, use colors like blue, green, and black.
2. Video:
Adding product videos on your site will help you increase your sales and conversions manifold. According to a report, companies saw an increase of as much as 144% in their sales when they used videos for showcasing their products on their website. B2B companies or service-based companies can use videos for sharing their stories, testimonials, and other differentiators.
3. Ease of use:
You need to find an answer to how quickly the visitor is able to navigate on your website. You should consider putting the most important information on the forefront. Your visitors should not be forced to scroll across your website and search for what they want. Design your sitemap in a way that it eases the visitor's search and the content on your website makes sense.
4. Unique value proposition (UVP):
Why should the visitor choose your business? What differentiates you from others in your niche? You need to find a clear answer to these questions and then make sure to make it apparent to your site visitors by displaying your UVP upfront on your site.
5. Trust Symbols:
Security and authenticity seals or other industry-specific symbols instill a feeling of trust in the online visitors. Testimonials and ratings serve the common purpose. The goal of these trust symbols is to come out as trustworthy to the potential buyer.
6. Free offers:
If you are offering any free item, discount coupons, or other freebies, then make sure the word "free" is communicated effectively to the visitor. You can ask for a simple subscription to your newsletter or the visitor's email ID for them to avail free offers in return.
7. Short forms:
The potential customer would not want to give us the information about their city, state, last name, contact number, etc just for that free offer/download. Therefore, you should keep it simple by just asking for the first name, email address, and zip code.
8. Virtual chat:
In recent years, having a chat option on your website automatically increases trust in your visitors. More people today like a quick online chat instead of picking up the call, dialing the contact number and dealing with the salesperson.
9. Headlines:
If you fail at putting interesting, eye-catching titles on your homepage, chances are the visitors will leave your website within seconds. Your headlines need to be strong and highlighted and should address the concerns of your potential buyer.
10. White space:
A cluttered webpage can end up confusing the prospect buyers and can turn them away from your site. Using white space in the design makes the content on it easily scannable. According to a study, the proper use of white space between lines of paragraphs and its left and right margins can increase comprehension by up to 20%.
Bonus: A/B Testing:
Businesses that succeed in getting more conversions most of the time never stop testing small changes on their website. With our Website Designing Services, you will be able to see the impact these small changes have on your conversion rate. While you only see a slight increase up or down in your conversion rate, the overall change in your conversion rates will be higher because of these small increases.
It is advised to hire a Web Designing Company who can help you with the A/B testing of your website. You might experiment with various small changes on your website, but it is advised to make only one change at a time. Then, on the basis of the website traffic, you get owing to that small change, analyze the data and decide whether that change should remain or discarded.